Venue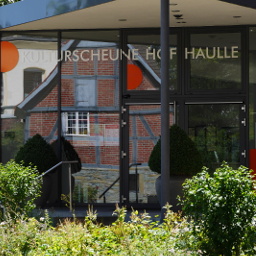 Bad Sassendorf in the federal state of North Rhine-Westphalia, Germany, is located roughly midway bewteen Dortmund or Hagen, and Paderborn. The prefix "Bad" indicates a spa town. Since the 10th century, Sassendorf is noted for its salt springs.
The workshop will be held on the premises of the (converted) farmstead Hof Haulle, with the former barn serving as our lecture hall. Another building now houses the museum Westfälische Salzwelten. Participants are invited to join us for the welcome reception on Thursday evening in the rooms of the museum.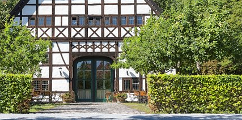 Conference dinner
All OWTNM-participants are cordially invited to the restaurant of the hotel Hof Hueck on Friday evening, April 13. The historical half-timbered house is located in the southern part of the spa gardens of Bad Sassendorf.
Workshop coordinates
Lecture hall (marker): The south-eastern building "Kulturscheune" in the area indicated as "Haullenhof".
Welcome reception: Northern building, entrance to the museum "Westfälische Salzwelten".
Street address: Kulturscheune auf Hof Haulle, An der Rosenau 2, 59505 Bad Sassendorf, Germany (but please use the address "Am Haullenbach 1" for car navigation to the parking area).
Tagungs- und Kongresszentrum Bad Sassendorf, phone number: ++49(0)2921/94334-20.
Workshop dinner: Hof Hueck, Gartenstraße 8, 59505 Bad Sassendorf; phone: ++49(0)2921/9613-0. From the lecture hall, follow the streets and footpaths along the brook "Rosenau" northwards until you reach the region of the spa gardens, marked as "Kurpark" on the map (≈ 700m / 9min walking time).
Travel guidelines
The workshop venue is conveniently accessible by public as well as by private transport. The railway station, Hof Haulle, and several recommended hotels in Bad Sassendorf are all located within walking distance.
Trains
By train, you'll probably travel via the main station (Hauptbahnhof, Hbf) of either Soest, Hamm, Paderborn, or Münster. Bad Sassendorf is connected to any of these by regular half-hourly direct regional trains (eurobahn). Travel times vary between approximately 3 min (Soest), 19 min (Hamm), 30 min (Paderborn), and 55 min (Münster). Tickets for these regional trains can be obtained from vending machines in the carriages. Further resources:
German railway planner; note that stops at a towns main station, and at an airport, are often indicated by the terms "Hauptbahnhof (Hbf)", and "Flughafen", respectively.
Information on regional trains to Bad Sassendorf.
Airports
By car
Navigate to the address "Am Haullenbach 1" in Bad Sassendorf. Follow signs to the museum "Westfälische Salzwelten". A large free parking area is available close to the workshop venue.
Internet
In the lecture hall and reception area, free WIFI access will be available to the workshop participants.
Weather
The climate in April in NRW/OWL is usually predictably unpredictable with averaged minimum and maximum temperatures of 2.9°C and 12.7°C.